Westermeyer Ind. builds industry, community, and future with welding
Posted on: October 21, 2011
Bluffs company working with John Wood Community College and ILMO Products Company to offer welding classes.
Bluffs, IL – October 2011:  Westermeyer Industries, in partnership with John Wood Community College (JWCC), is offering welding certification courses in their Bluffs, Illinois, plant for high school students and adults seeking a professional certificate in the trade as well as welding professionals wanting to advance their certificate. Evening classes will offer students schedule flexibility in a real-world environment while preparing them for entry-level employment as a welder.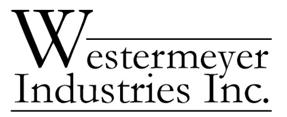 "While not promoted as prominently as the college path, professional careers in a trade such as welding are rewarding, respectable careers with great income potential for those who excel at it." shares Gary Westermeyer, President of Westermeyer Industries, adding, "For a fraction of four-year college programs, we're offering students and adults alike the opportunity to receive high-level training in just a few semesters." Per JWCC's welding curriculum, these skills include reading and interpreting welding symbols and blueprints, basic MIG and TIG welding, commercial welding practices, principles of welding safety and basic welding shop math.
Assisting with the Westermeyer Industries and JWCC partnership, ILMO Products Company is helping promote the new courses through various public speaking events as well as donations of welding equipment and supplies.  All involved realize the importance of having a skilled workforce to support growth in our region, so efforts to promote this opportunity through meetings at high schools and with industrial employers are in progress. Classes start in Fall 2011 with a 9 week course focused on interpreting welding symbols and reading blueprints.
Those interested in starting a career in welding or furthering their certificate as a professional welder should contact Dava Johnson by calling (217) 754-3277 or emailing davajohnson@westermeyerind.com today! Visit www.jwcc.edu for information on class schedules and tuitions. When ready to start, students can visit ILMO Products Company in Quincy or Jacksonville to purchase their Welding Safety Kit at a special price.