Repair & Calibration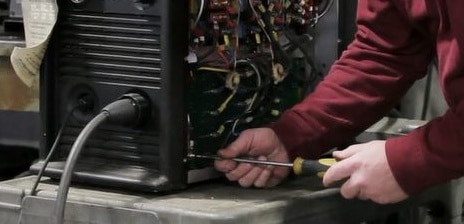 In-house welder repair services keep you consistently operating at your peak level. 
Whether you need a preventative maintenance equipment management program or just a one-time welder repair service so you can get back to work, ILMO's in-house repair department will get you back in action! Because we don't have to outsource your welder repairs and calibrations, you'll receive your equipment faster and without a third party surcharge. From your house to ours, and right back to you…that's how we think it should be.
Drop your equipment off at any of our 10 locations and the experienced technicians at our Jacksonville repair center will apply the industry's best techniques to make your repair. Need it to be easier? ILMO offers pick-up and delivery offsite at construction sites, manufacturing plants, and in other workplace settings.
If your needs are constant, ask us about our onsite maintenance agreements, maintenance training, and preventative maintenance programs. Through our long-standing relationship with the American Welding Society (AWS), many on our sales team are Certified Welding Inspectors, Educators, Instructors, or Sales Representatives. Our equipment knowledge goes beyond repairs and calibrations, and we offer it all to you.
We offer:
Welder and plasma repair
MIG gun repair
Torch Repair
Regulator Repair
Meter Calibration
Bring our experience into your facility:
Onsite maintenance agreements
Maintenance training
Factory-Authorized Repair Center for:
Miller
Lincoln
ESAB
Hypertherm
Complete our repair request form now to quickly get back to normal operations.