Teamwork in action – pays off!
Posted on: November 29, 2011
A number of ILMO team members were recognized this fall for work in their fields and on behalf of the company, and we're excited to brag about them! When you have a minute, check out these three unique awards in the areas of human resources, sales, and marketing.
HR Professional of the Year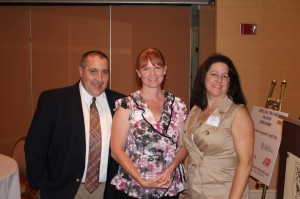 On August 4, 2011, Pattie Curry, SPHR, was honored with the Award of Professional Excellence – HR Professional of the Year for 2010 at the annual CIC-SHRM recognition event at Illini Country Club in Springfield, IL. Each year chapter members are asked to nominate a chapter member that demonstrates involvement and commitment to the HR profession, and is someone who has exhibited exemplary performance in her/her Human Resources position. Congratulations, Pattie!
St. Louis Business Marketing Association recognizes 3 ILMO Campaigns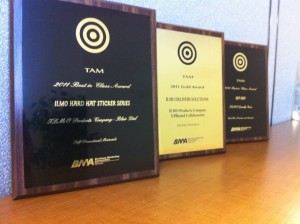 ILMO received two Best in Class Awards and one Gold Award at the St. Louis Business Marketing Association TAM Awards Ceremony on September 12, 2011. The ceremony was held at the Chase Park Plaza in St. Louis, and Linda Standley and Blair Dial were in attendance. Awards pictured are for:
ILMO Hard Hat Sticker Series (Best in Class – Self Promotion Materials category)
ILMO Delivers Solutions corporate video for ADM (Gold Award – Electronic Presentations; shared with UPBrand Collaborative who produced the video)
ILMO Specialty Gases' Got Gas? t-shirts (Best in Class – Tradeshow Promotions)
Outstanding Sales & Marketing for Hypertherm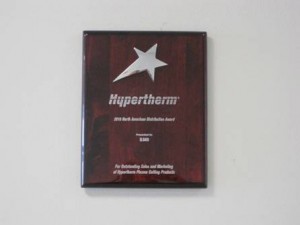 ILMO was recently presented with a 2010 North American Distribution Award from Hypertherm for Outstanding Sales and Marketing of Hypertherm Plasma Cutting Products.
This award was only possible because of the hard work of all employees involved in sales, branch operations, purchasing, service, and CWI consulting. Way to go, team!
We'd like to celebrate YOU!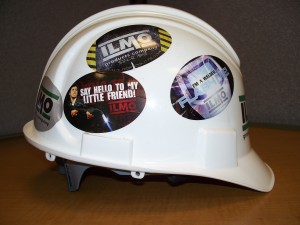 Want an award-winning ILMO hard hat sticker of your very own? Drop us a note at info@ilmoproducts.com and include your name, address, and place of work and we'll mail one to you to proudly display for all of your welding friends to be very jealous of!