ILMO now accredited to ISO Guide 34:2009
Posted on: June 20, 2014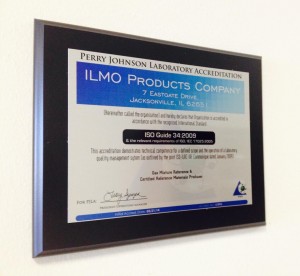 ILMO Specialty Gases' gas laboratory has long been accredited to the ISO/IEC 17025:2005 standard, but to continue meeting increasing quality assurance demands, we've successfully pursued statement that we're exceeding these standards.
This spring, ILMO Specialty Gases received accreditation to ISO Guide 34:2009, which provides Certified Reference Material (i.e. chemical standard) manufacturers the highest level of quality assurance, confidently stating that our standards are produced correctly and competently. To retain this, our laboratory observes the strictest requirements imposed by the ISO committee, and all methods used to certify our standards are validated and proven accurate. Where ISO 17025 requires consistent and proficient quality testing  of the gases manufactured, Guide 34 requires even higher quality assurance levels.
What does this mean for you?
Simply put, the quality of our program will positively impact the quality of yours. Your supply chain will strengthen the products you test and produce.
Working with a laboratory accredited to ISO Guide 34:2009 reduces the likelihood for errors in product quality and accuracy, more so than labs with a lesser ISO accreditation.
ILMO's certification methods for standards are validated and proven to be accurate.
Your pricing doesn't change just because we have proven, accurate manufacturing standards, so working with us just means less headaches.
You have easy, online access to check our accreditations.
How are you using chemical standards in  your facility and processes today? What questions do you have about the gas or gases you use? Let us help. Contact our Specialty Gas Program Manager with your question or quote request.