ILMO gives workers $100 bills on 100th day of 100th anniversary!
Posted on: April 15, 2013
By Michael Krumboltz | 
The Upbeat
 – Fri, Apr 12, 2013 11:24 AM EDT
(previously on Yahoo.com) The owners of ILMO Products, a Jacksonville, Ill.-based company, handed employees $100 bills in celebration of the company's 100th anniversary. The Benjamins' bonanza took place on Wednesday, the 100th day of the year.
All told, 97 employees scored the bonus (if only they'd hired three more). The Jacksonville Journal-Courier  reported that the company even handled the taxes.
Blair Dial Austin, a spokesperson, told the Journal-Courier, said that while the $100 wasn't a "life-changing amount," it was still very much appreciated. "We think turning 100 is kind of above and beyond and is something really unique and deserves to be celebrated," she said.
The owners of the company, which specializes in industrial, medical and laboratory gases, felt strongly about recognizing the hard work of their employees, according to Austin. "It takes employees to get us here," she said.
ILMO has 10 offices around the country.
________________________________________
Pictures from throughout the day can be found at www.facebook.com/ILMOproducts
Press Release: ILMO Marks 100th day of year with surprise for employees
Jacksonville, IL – ILMO Products Company is celebrating their 100th Anniversary throughout 2013 with several activities, most recently surprising all 97 employees with $100 on the 100th day of the year, totaling a giveaway of more than $12,000 including taxes.
On Wednesday, April 10, ILMO's owners and directors visited all ten ILMO locations to personally present each employee with a $100 bill and lunch for their team, and to express their appreciation for their dedication to ILMO's success and the success of our customers. Accompanied by banners with the ILMO anniversary logo and a giant check, employees posed for pictures to commemorate the event and talk light-heartedly about their spending plans.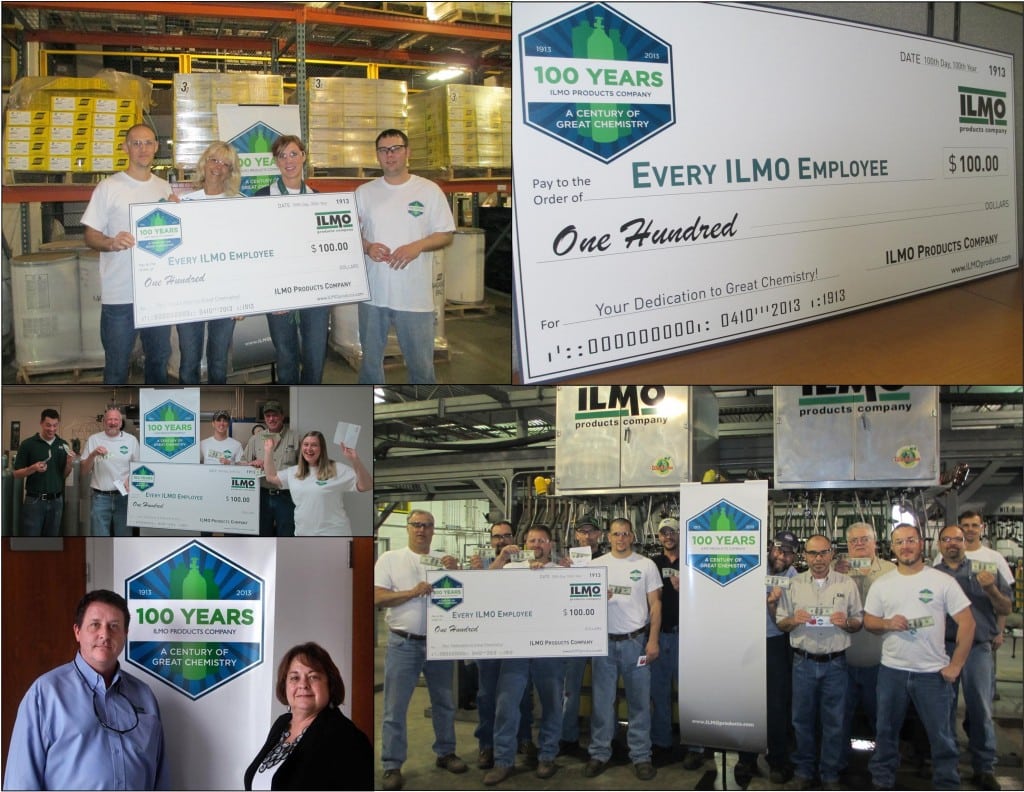 Fourth-generation owners, Brad Floreth, President, and Linda Standley, CEO, agreed that honoring ILMO's employees was the most important first step in the anniversary celebration. "Being in business for 100 years says a lot about a business' values, how well they serve their customers and support their community, and their ability to adapt," states Standley. "At the core of those factors, there must always be great people working together as an even greater team, and we think our employees are excellent at what they do every day, so we chose to thank them for helping ILMO reach this rare milestone."
Like ILMO's year-long 100th Anniversary celebration, the $100 fun didn't end after the 100th day. "Our story is receiving thousands of comments from people who simply want to congratulate ILMO for rewarding its employees," said Blair Austin, Marketing Director at ILMO Products Company. "Our employees and customers are thrilled to see our name in national news, and it's building a new energy inside the company, in addition to what we experienced Wednesday. It's chemistry!"
Earlier this year, ILMO unveiled an anniversary logo and slogan – A Century of Great Chemistry – and will be celebrating in many other ways to thank their customers, employees, vendors, and community for their help in ILMO's success over the past 100 years and through the next century. Additionally, an historical website will be launched in mid-2013 on www.ILMOproducts.com.
About ILMO Products Company: Since 1913, ILMO Products Company has been a family-owned distributor of industrial, specialty, and medical gases in bulk, micro-bulk, and cylinder solutions, as well as retail sales of welding and safety equipment, accessories, rentals, and welder repair services. ILMO Specialty Gases' ISO/IEC 17025:2005 Accredited Gas Laboratory serves customers across the U.S., Canada, and South America, while ILMO Medical Gases provides medical and device gases and gas systems for all related industries. ILMO has over 100 employees across 10 locations in Illinois and Missouri. For more information, visit www.ilmoproducts.com or connect with us on www.facebook.com/ILMOproducts to see photos from our 100th day celebration.