(SJ-R) 100 years of adaptability for ILMO Products
Posted on: April 15, 2013
(Originally printed in The State Journal-Register) By Natalie Morris | Posted Apr 13, 2013 @ 09:30 PM
JACKSONVILLE — An outsider might have trouble tracing the line that connects ILMO Products Co.'s origins as a tire and battery retailer to its current position, among other things, as one of the few international distributors of specialty gases.
But fourth-generation owner-operators Brad Floreth and Linda Floreth Standley readily point to the source of that century-long arc — their customers' needs.
"Who knows what we might be selling 20 years from now," president Brad Floreth said. "We started out a tire company, selling acetylene for (automobile) headlights, delved further into the gas business and, eventually, cut out the tires.
"Things evolve, and our customers drive that."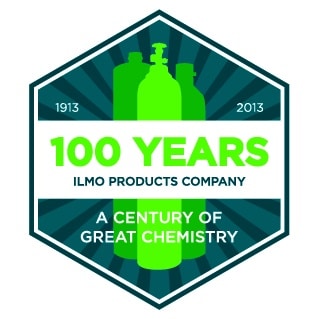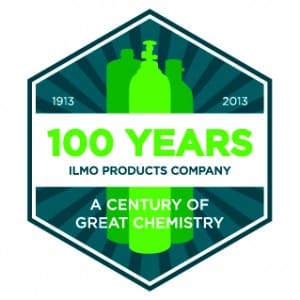 The cousins coined a new company logo — "A Century of Great Chemistry" — to celebrate the 100th anniversary of the privately owned business started in Jacksonville by their grandfather D.O. Floreth and great-grandfather Henry J. Floreth in 1913.
Standley, the company's chief executive officer, said that's more than just a nod to their product line, which includes a wide variety of industrial, medical and laboratory gases.
The new logo also recognizes the impact customer and employee relationships have had on the company's identity.
"This just didn't happen by accident," she said. "We focus constantly on being adaptable. And that allows us to continue to be successful."
'Do great service'
The company's year-long celebration is aimed at strengthening its relationships.
ILMO Product's 97 staff members were surprised Wednesday — the 100th day of 2013 — with a $100 bonus for their "dedication to great chemistry." And throughout the year, Floreth and Standley will be making personal visits to their customers to assure that the lines of communication remain open.
"We're trying to celebrate our past, but prepare for changes in the future," company spokeswoman Blair Dial Austin said.
Robert Strothmann has — as St. John's Hospital's supervisor of supply, processing and distribution — seen ILMO Products' customer service up close. The company provides bulk oxygen and medical gases to the Springfield hospital.
"They do great service. No issues, turnaround's great, and they have phenomenal customer service," Strothmann said. "I'm really lucky they're local."
ILMO Products is still headquartered in Jacksonville. But the company has locations throughout central and southern Illinois and the St. Louis market, making the name — if not the product — very familiar.
"While a lot of people use our products, most aren't in the know," Standley said. "We do a lot of business-to-business service. Most people see our store, our trucks, but don't think about what we do.
"They're familiar with our cylinders, but not much else."
Even so, the average person is touched daily by services and products made possible by the gases the company distributes.Homes and offices heated by propane. Supermarkets with freezer aisles filled with foods flash-frozen with liquid nitrogen. Hospitals and nursing homes dispensing liquid oxygen for medical uses. Specialty gases assuring area smokestacks are meeting clean air standards. Poised for growth
Ironically, ILMO Product's is poised for growth in areas that include a mix of cutting-edge technology and old standbys.
The company's $4.5 million gas-filling facility for medical and specialty products was certified four years ago by the International Organization for Standardization, placing ILMO Products among a handful of companies worldwide with this pedigree.
And that opened the business up to customers well beyond the traditional Illinois and Missouri region.
"We're now selling our calibration gases across the county and overseas," Floreth said. "It could potentially be huge growth."
These gases are used to assure measurement equipment — like that used to determine the freshness of air in coal mines or emissions leaving smokestacks — is registering accurate readings.
Propane, an old standby for ILMO, also promises to be a growing division, Floreth said.
The company has supplied propane to industrial customers for years. But the service was expanded to residential customers for home heating purposes last year, creating a potentially large, new customer base.
New offices in Granite City and St. Louis also are poised to grow this division, he said.
"Scrap yards in the area use propane and oxygen for their cutting torches. We have both," Floreth said. "Oddly, others in the area don't sell both, so there's a convenience factor we can offer."
While these fields are growing, the welding and the manufacturing industry still remains the company's largest customer base. However, even there, ILMO Products is seeing customers looking to them for different services, Dial Austin said.
"They're relying on us more and more for technical advice, as well as product," she said.
Medical and laboratory customers also are a large and growing customer base. The company has a network of medical customers that include hospitals, laboratories, nursing homes and universities across central and southern Illinois and northeast Missouri.
"It's a big piece of the business, and growing more rapidly (than metal fabrication)," Floreth said. "It's hard to say how soon it'll take over, but it's heading that way."
One thing is for certain: Floreth and Standley won't be forging the company's future on their own, Standley said.
"Our dads were always very customer-oriented," she said. "The one thing I remember them saying — 'Listen to your customers. Listen to your employees.'"
Natalie Morris can be reached through the metro desk at 788-1517.
ILMO Products Co. timeline
1913 — Illinois Tire and Vulcanizing Co. founded in Jacksonville
1926 — Oxygen and welding equipment added to the company's product line
1930s and '40s — Illinois Tire & Battery opens stores in Springfield, Decatur and Quincy
1948 — Company rechristened Illinos Missouri Welding Products Co., and all non-welding lines — such as tires — are dropped
1957 — Ill-Mo Welding Products moves to new location at Sandusky in Jacksonville
1963 — Ill-Mo Welding Products expands into medical gas
2003 — Name condensed to ILMO Products Co.