Earning your welders certificate in Illinois and Missouri
Posted on: February 14, 2018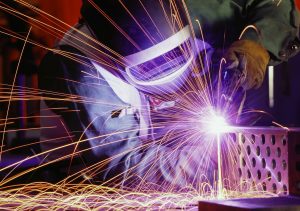 Welding, sometimes described more as an art than as a craft, is a modern profession with many faces and levels. It should not be surprising that it appeals to many young and not so young people, male and female alike.
Specific training is required to learn and practice the skills needed for the various welding processes. Qualifying trainees are requested to pass examinations and become certified in the particular field they choose before being able to apply for certain jobs.
A certification is your passport to more demanding and better-paying jobs. You can accumulate any number and type of certifications, demonstrating expertise and versatility. The more certifications you earn, the better, even if you will not be jumping from process to process, except when needed.
Throughout Illinois and Missouri, you can earn a welders certification with one of the many trade schools or technical colleges. The certification you earn through the successful completion of the welding course is valid in any field of work. Once you become a certified welder, your credentials are good anywhere. Check with the welding school offering the program to determine education prerequisites or other requirements for enrollment.
Enroll in an accredited welding program. You may qualify for financial aid through an accredited program. The cost varies with the educational agency offering the training.
Pass the various skill-level requirements required by the course administrator. These requirements may include a specialized math course, blueprint reading, and welding theory.
Choose a specialized welding course, such as mig, tig or arc welding. You can choose to learn all the welding techniques. Successfully complete the specialized training program. Once you pass the course, you are issued a welder's certificate.
Earn the Certified Welder (CW) certificate from the American Welding Society (AWS) by contacting one of the Illinois testing facilities, such as Carpenters' J.T.F. of St. Louis, Southern Illinois Division, to register for testing. Once your weld has passed inspection by the Certified Welder Inspector, the inspector will send your test results and registration fee to the AWS. Your certification will come in the mail in four to six weeks.
Maintain your certification by sending in proof of work every six months. Your employer must sign a statement attesting that you work in the welding field for which you are certified. Failure to maintain renewal will result in your certification being revoked.