2013: Celebrating ILMO's 100th Anniversary!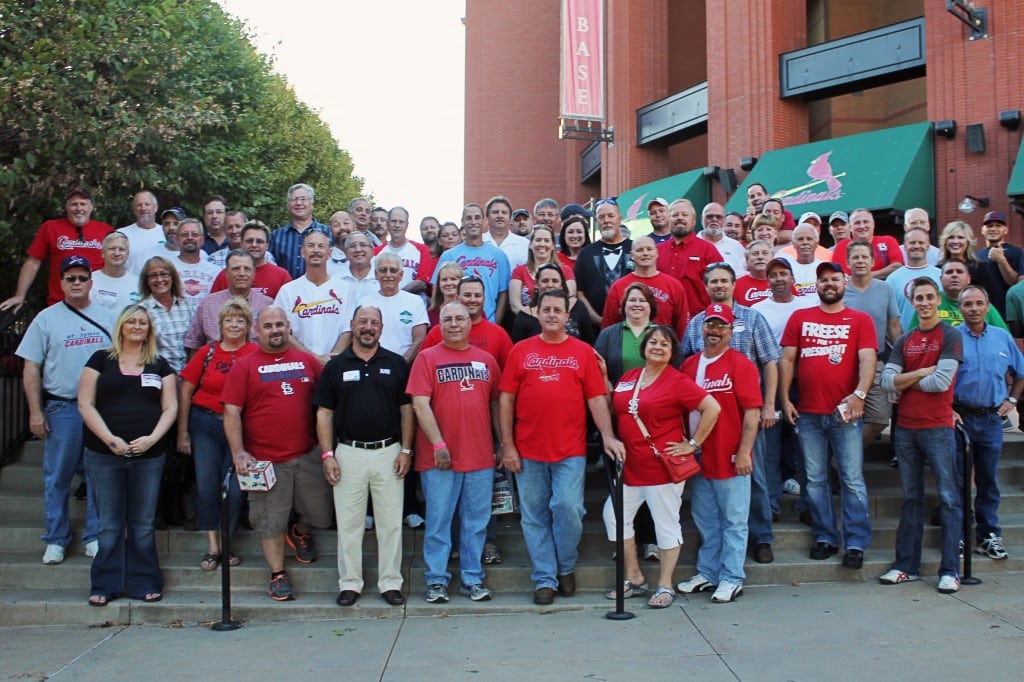 ILMO Products Company continued its year-long 100th Anniversary celebration with an Employee Appreciation party on September 13-14, 2013 in St. Louis, MO. Staff designated the week leading up to this event "ILMO Week" and employees at all ten locations participated in company spirit and community-building activities, ending with a half-day on Friday to allow all employees to travel to Busch Stadium for a St. Louis Cardinals game and night out in St. Louis. Proudly through their ILMO Week efforts, employees raised and donated nearly 700 needed food items and money to their local food pantries to help their communities this fall.
CEO Linda Standley and President Brad Floreth have been planning for this event since last year with a special Anniversary task force of volunteers, choosing to focus on an event that would thank employees and build excitement for the company's future. Floreth noted, "The chance to socialize with our team and their spouses is always enjoyable. Everyone is happy relaxing and having fun with each other on a personal level, and it's something we hope to continue regardless of an anniversary milestone."
In addition to the food drive, ILMO week consisted of staff lunches, 100th anniversary t-shirts for all employees, show-your-spirit challenges and a car decorating contest, all for fun, and few prizes, a chance to walk on the field during batting practice at Busch Stadium. "From our earliest days, ILMO has supported the communities in which we live and work, so including a benefit for our food pantries was a great addition to ILMO Week" stated Standley. And about the big event she added, "We were thrilled to be able to gather everyone, have a little fun, and show our appreciation for their hard work while also celebrating the results of generations dedicated to making ILMO a success."
Check out some of the fun we had on 9.13 and throughout ILMO Week!
Check out other ILMO 100th Anniversary activities and ways to stay connected: