ILMO Products receives '2010 Business of the Year' Award
Posted on: February 18, 2011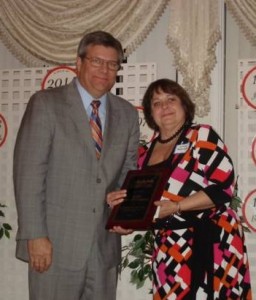 Jacksonville, IL:  ILMO Products Company was awarded Business of the Year by the Jacksonville Area Chamber of Commerce in recognition of their success and accomplishments in 2010, including the acquisition of a welding supply company in St. Louis, MO., and expansion of their ISO 17025 gas laboratory, among others.  The award was presented at January's Annual Meeting, accepted by Linda Standley, ILMO Products' CEO, and witnessed by several members of ILMO's Executive Committee and various managers.
"2010 was a busy year, full of surprises and new unique challenges," states Standley, CEO. "For me, the Chamber's award publicly recognizes the hard work of our employees that we witnessed all year, and they deserve every bit of it. Our employees are simply outstanding."
Chamber President Ginny Fanning summarized what lead the Chamber committee to select ILMO for this award. "Throughout this tough economic time, they have maintained a full staff without layoffs or furloughs while adding middle-management, sales, and executive roles across Illinois and Missouri," Fanning said. ILMO has 85 employees, the majority of whom work in Jacksonville. She added, "ILMO Products is extremely philanthropic and supports a number of our not-for-profit organizations with their donations and employee involvement." ILMO received this award in the large business category, and the annual meeting was attended by more than 100 community business owners and members.
About ILMO Products Company Since 1913, ILMO Products Company has been a family-owned distributor of industrial, specialty, and medical gases in bulk, micro-bulk, and cylinder solutions, as well as welding and safety equipment, industrial supplies and accessories, and welder repair services, with nine branches across Illinois and Missouri. ILMO Specialty Gases' ISO/IEC17025:2005 Accredited Gas Laboratory serves customers across the U.S., Canada, and South America, and is a Purity Plus supplier, while ILMO Medical Gases provides medical and device gases and gas systems for all related industries. For more information, visit http://www.ilmoproducts.com and see what there is to "Like" at www.facebook.com/ILMOproducts.