Celebrate Manufacturing Month!
Posted on: October 1, 2018
Manufacturing – The Backbone of the Economy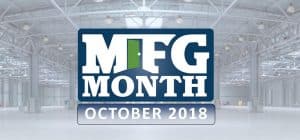 National Manufacturing Month is an opportunity to celebrate Illinois manufacturing for its leadership and innovation. Talented manufacturers across the state are combining product development with new technology to make Illinois a primary source for ideas and resources. ILMO Products is one of the many small businesses that provide the backbone to manufacturing and our products are making an impact locally and internationally.
Manufacturing is experiencing a renaissance in the United States. One of the greatest challenges manufacturers' face is the lack of a skilled workforce pipeline. Without that pipeline, the country's manufacturers will be unable to compete in the global economy. Public perceptions are seriously out of step with manufacturing's broad range of interesting and financially rewarding careers. Manufacturing Month specifically provides information to anyone interested in a skilled career in manufacturing.
What can you do? If you are a student or parent, reach out to your local school or training center – attend career expos that provide professional development. There are a variety of resources, events, and activities to help you learn more. If you are an educator, run student workshops, arrange site visits or job shadowing, hook-up with local Industry Ambassadors. If you are a manufacturer, host student groups, exhibit at local events, hold an Open House or Facility Tour, provide student job shadow and internship opportunities — Become an ambassador for your local manufacturing profession.
ILMO Products furnishes an impressive range of gases and equipment. From servicing individuals' and small business, ILMO integrates into your supply chain across multiple divisions. We provide medical, industrial, and laboratory gases. Additionally, ILMO offers welding equipment, sales, service, and supply. Manufacturing Month celebrates all manufacturing businesses fueling our state's economy and offers a chance to learn about the innovations ILMO Products and Illinois manufacturers are advancing.
About ILMO Products Company: Since 1913, ILMO Products Company has been a family-owned distributor of industrial, specialty, and medical gases in bulk, micro-bulk, and cylinder solutions, as well as retail sales of welding and safety equipment, accessories, and welder repair services. ILMO Specialty Gases' ISO/IEC17025:2005 Accredited Gas Laboratory serves customers across the U.S., Canada, and South America, while ILMO Medical Gases provides medical and device gases and gas systems for all related industries. ILMO has over 90 employees across 9 locations in Illinois and Missouri. For more information, visit www.ilmoproducts.com or connect with us on Facebook.