Introducing the New Power MIG 260
Posted on: October 24, 2018
The POWER MIG® 260 sets the standard for MIG and Flux-Cored welding in light industrial shop fabrication, maintenance, and repair work. It offers superior welding performance with a 7" digital full-color graphics display and synergic controls make setup and operation intuitive and easy.
Ready. Set. Weld® Quick Set Up
ArcFX™ Technology
Universal Input Voltage
Memory Capability
Auto Calibration for Push-Pull Aluminum Performance
BUY TODAY! Find An ILMO Store Location Near You or CALL TOLL-FREE: 888-243-9353
INNOVATIVE INTERFACE
Set Up Quickly, Weld Efficiently, and Maintain Productivity
Current Settings Tool Bar
Wire Feed Speed
Selected Welding Mode Type
ArcFX™
Voltage
Home Button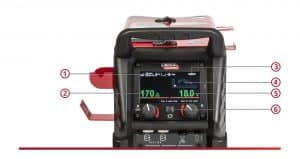 The POWER MIG® 260 also features the following items to increase ease and control.
ARCFX™ TECHNOLOGY
Lincoln Electric's patented technology providing instant graphical feedback on how Wire Feed Speed and Voltage affect the weld outcome.
AUTOMATIC SETTINGS
Automatic settings provide optimal weld parameters.
MEMORY CAPABILITY
Memory capability gives users the ability to load and save weld settings.
READY. SET. WELD®
The Ready.Set.Weld® feature enables a quick and easy setup.
BUY TODAY! Find An ILMO Store Location Near You or CALL TOLL-FREE: 888-243-9353
BENEFITS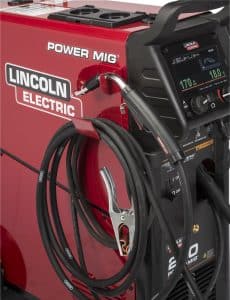 Weld on Any Input
208/230/460/575 Input Voltage
Versatility with Consistent Performance
Easy to View and Adjust Settings
Top-mounted Quick Storage Accessories
Easy Maneuverability with an Industrial Handle
Superior Aluminum Performance
Ability to Run a Push-Pull or Spool Gun
A Rugged and Reliable Wire Drive
Auto Calibration for Push Pull
BUY TODAY! Find An ILMO Store Location Near You or CALL TOLL-FREE: 888-243-9353