Helping keep fairgoers happy since 2014
Posted on: August 6, 2019
ILMO Propane is the exclusive supplier to the Illinois State Fair!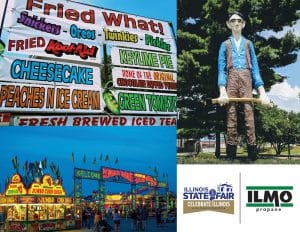 ILMO Propane has been the exclusive propane supplier to the Illinois State Fair since 2014. The fair patrons will be bringing their appetites to the annual event this August and ILMO Propane will be ready. Whether you favor a savory or sweet treat, this year's Illinois State Fair should satisfy every palate. We all love food – We grow it, sell it, cook it, and eat it! And at the Illinois State Fair we celebrate it with everything from the Ethnic Village – featuring delectable delights from around the world, to Vose's Corn Dogs – a family-owned business in Springfield and surrounding areas for over 45 years. Fairgoers will be able to enjoy samples, cooking demonstrations, food eating contests, fun recipes to share, and so much more. All of these featured foods at the fair have one thing in common – They are all prepared using ILMO Propane. GasUp!
Follow us on [Facebook] and get in on ILMO's //10 Days of the Fair ­// for photos, contests, and more!
Contact ILMO Propane for information on your residential, agricultural, or commercial needs.
Call Today: 1-855-ILMO-GAS • Email: info@ilmopropane.com • ILMOpropane.com